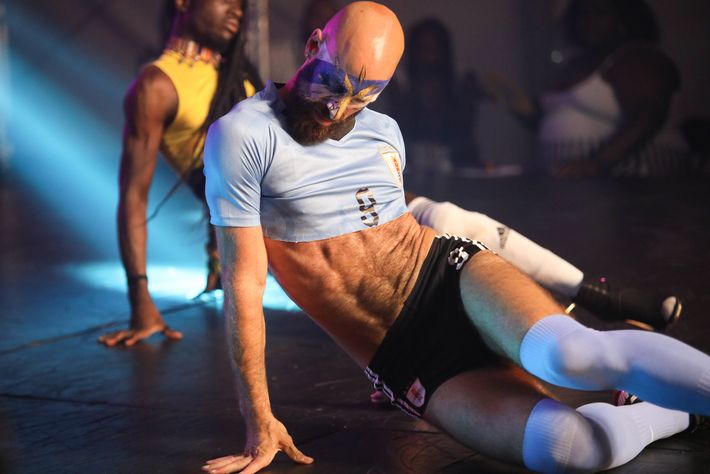 Gerard X Reyes
"Voguing – No Guilt in Pleasure"
August 7 – 11
14.00 – 16.00 H > Professionals
16.30 – 18.30 H > All Levels
Studio D
In English
Life is the opportunity for pleasure, but shame and guilt close us down. Voguing and stripping – here 'stripping' is intended to mean the dance form, rather than the act of getting naked – can re-open us up.
Gerard X Reyes is a choreographer, dancer, video artist, teacher, certified somatic sex educator and intimacy coordinator. He learned vogue from legendary and iconic teachers such as Mother Amazon Leiomy (Maldonado), Grandfather Archie Burnett Ninja, Danielle Polanco, Overseer Twiggy Pucci Garçon, and Father Javier Ninja in New York City – the birthplace of vogue. Gerard is Montreal's Kiki Ballroom Scene pioneer.
In his artistic exploration of gender-specific forms of performance, he discovered for himself a non-normative way to think about gender, sexuality, pleasure and intimacy. They are at the core of his solo "The Principle of Pleasure", which JOINT ADVENTURES showed at the Schwere Reiter last fall, and of his TWE workshop.
Over 5 days, Gerard X will introduce course participants to Voguing (especially New Way, Vogue Fem) and stripping technically, imaginatively and somatically. Different gender-specific behaviors will be adopted and discarded in order to find and express untapped areas of one's personality. The participants will be encouraged to reach beyond their perceived physical and mental limits. Come with an open mind and leave with a freer body!
The workshop will take place within a safe(r) space context and explicitly invites people who identify as part of the LGBTQI*, FLINT*, BI*POC or LATINX community. From all other participants we expect a clear positioning against queerphobia, homophobia, transphobia, misogyny and racism.
People from the LGBTQI*, FLINT*, BI*POC or LATINX community with limited financial means are asked to contact Sophia Scherbaum personally: