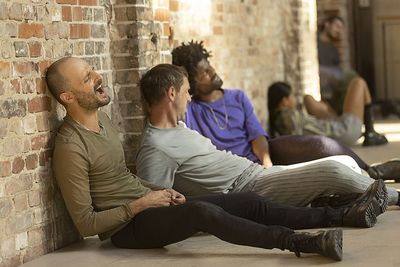 Jefta van Dinther
Leah Marojević
"Unearth"
August 7 – 11
11.30 – 16.00 H
Studio C
Professionals
In English
Choreographer and dancer Jefta Van Dinther is based in Berlin, and regularly creates works for renowned companies such as the Cullberg Ballet in Sweden. His choreographic practice is characterized by a rigorous physical approach.
His workshop, that he will teach together with queer female performance artist Leah Marojević, takes its starting point in the singing of songs and what we feel when doing so. Using an album on loop as an analogy of the reengagement of the self, the workshop dives into the human drive to relive, to repeat and to remember. Singing together brings us into an inner landscape while at the same time connecting us to others and to what is around us. This workshop explores these relationships sonically and choreographically, as an individual and as a chorus.
We will focus on coached singing sessions and guided movement explorations. Through a layering of activities, parameters and time and space coordinates, a choreography will be built and framed. The workshop is geared towards generating a methodology through experience, and simultaneously provides a space to practice performing.
Jefta Van Dinther's performance of the same name can be seen at TANZWERKSTATT EUROPA on August 5 and 6.