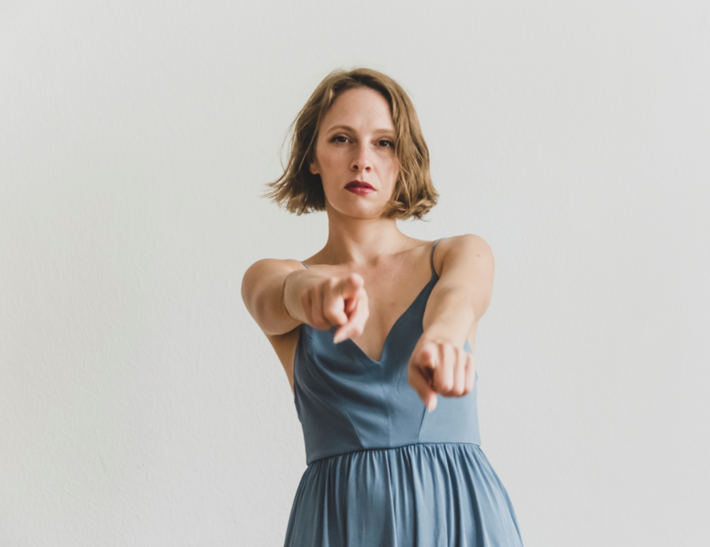 Kassandra Wedel
"Sign dance or the dance of signs!?"
August 2 – 6
14.30 – 19.00 H
Studio E
All Levels
In German/English sign language
With sign language interpreter Elisabeth Brichta
As a dancer and choreographer, Kassandra Wedel deals with sign language, dance, performance, music and silence through her deafness. In her eyes, dancers are not only interpreters of music; acoustic music is not necessarily needed if movements can be music for the eye.
With the participants of her workshop, Kassandra will explore dance with sign language, improvise, experiment and develop a choreography with the group that is worth seeing. How can sign be dance and dance be sign? How can you tell something visually and dance it so that a sign or a hand gesture becomes a whole story or music? How do I detach myself from the sign into the abstract?
The workshop is addressed to both hearing and non-hearing dancers, performers and actors and is intended to create an exchange and enrichment for both sides.
Kassandra is a freelance artist, dancer, choreographer, actress, performer. Deaf. She has been dancing since the age of 3. Starting with ballet, she discovered her love for hip-hop at the age of 13. At the age of 19 she started teaching and founded the Nikita Dance Crew (2005). In 2012, she became a two-time German and World Champion in Hip-Hop in solo and duo, and German and Vice World Champion with the Nikita Dance Crew. She regularly performs on stage in Germany and internationally (e.g. in Denmark, France and the USA). She loves to experiment, using different forms of expression such as acting, performance, dance (hip-hop, vogue, contemporary), sign language, sign poetry and her own voice.