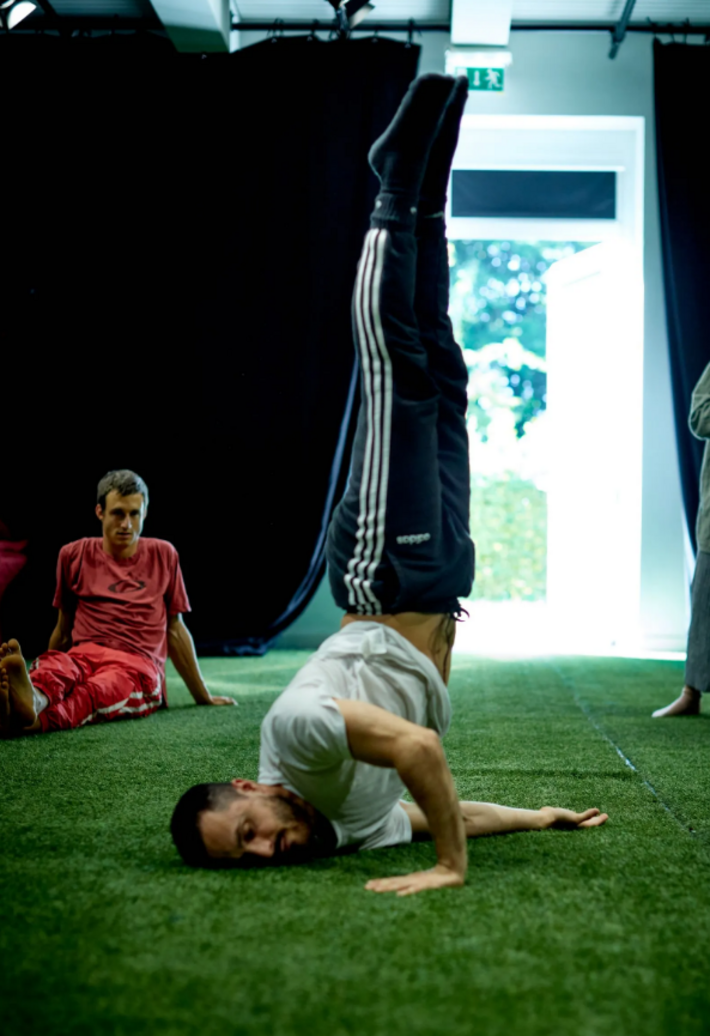 Kenan Dinkelmann
"Flow Acrobatics"
August 7 – 11
11.30 – 13.30 H > Professionals
14.00 – 16.00 H > Advanced
Studio E
Professionals
In English
"Flow Acrobatics" deals with body awareness and full body coordination. Kenan Dinkelmann, who has danced in works by Wim Vandekeybus, Johannes Wieland and Anton Lachky, will teach the participants the concept in a playful way by integrating new movement patterns which are based on fluidity, resilience and lightness.
Drawing inspirations from martial arts and yoga, the warm up has the purpose to tune the dancers into a clear and subtle state of body and mind. It is followed by a series of movement patterns used as a tool to explore the mechanics of the spine.
The main part of the workshop consists of high energy movement phrases based on Kenan's choreographic work which is influenced by various backgrounds such as Capoeira, Judo, Release-Technic and Breakdance. Improvisation tasks, either alone or with a partner will be executed during the whole workshop in order to explore the movement material from another viewpoint.
As freelance dancer, Kenan worked with Johannes Wieland, Marion Sparber, Iván Pérez, UnterwegsTheater in Heidelberg and Anton Lachky. From 2015 until 2017, he joined the dance company of Theater Bielefeld where he danced in works by Wim Vandekeybus, Simone Sandroni and Sharon Fridman.
As a choreographer he created several pieces which were shown in Sofia, Tel Aviv, Berlin, Arnhem and Prague.