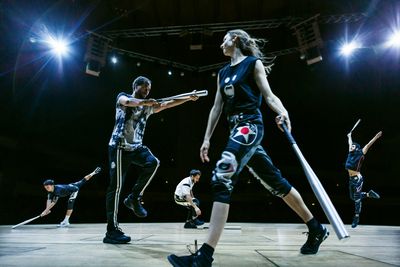 Moritz Ostruschnjak
Dhélé Agbetou
"Beyond Battles"
August 7 – 11
11.30 – 16.00 H
Studio A
Professionals
In English/German
Coming from the graffiti scene, the Munich choreographer Moritz Ostruschnjak developed his interest in contemporary dance through breakdancing. The dancer Dhélé Agbetou won national and international battles and is one of the pioneers in Germany in combining urban styles with contemporary dance. Both artists have collaborated, among other things, in the production "YESTER:NOW", which was also shown at TANZWERKSTATT EUROPA 2021 in the Munich Philharmonie.
Their joint lab explores choreographic strategies that detach urban dance from its conventional context. It starts with a collective warm-up based on various improvisations. Based on the artistic practice of Moritz Ostruschnjak, who deals with the changes in physical and social experience in times of digitalisation and virtualisation, the participants are then given various tasks from which they develop choreographic sketches - individually and in the group. Different material from urban styles will be used (break dance, hip hop, house, voguing, etc.). The aim is not to rehearse urban techniques, but to find out how to work with them artistically in a contemporary choreographic composition.
The lab is aimed at professional dancers with an urban background. Please make sure you wear sneakers that do not leave dark streaks on the dance floor.