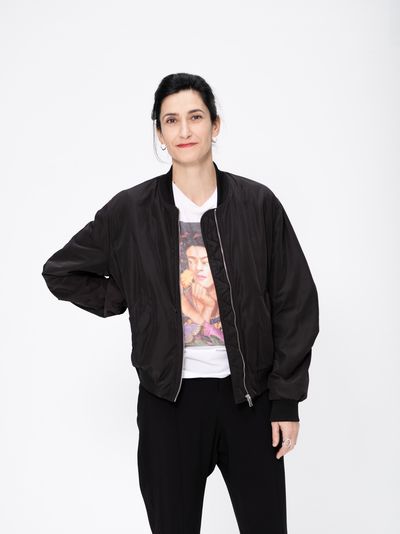 Virginie Roy
"Can't stop moving!"
August 7 – 11
16.30 – 18.30 H
Studio C
Advanced
In English/German
Moving is being moved: dancing gets us in the swing of things, carries us away, inspires us and lets us connect to ourselves and others. This class offers to deepen the individual technical and artistic approach, accompanied by the simple joy and pleasure of dancing together with the music.
Individually, but also in couples and groups, through exercises in standing or on the floor, in improvisation and with learned movement material or dance movement phrases, we will deepen together the technical potentials of the body, make the anatomical processes conscious and develop qualities, in order to experience an artistic process.
In terms of content, we will explore different approaches to contemporary dance, insights from somatic practices, somatic psychology, and choreographic practices.
Can't stop moving! gives energy and artistic input for the next months!
Virginie Roy, from France, studied dance at CNSMD Lyon and dance pedagogy at CND in Lyon. Shecompleted her master´s degree in clinical psychology and her diploma in art therapy at the University of Paris 8. Furthermore, Virginie Roy earned a postgraduate diploma in clinical and health psychology from the University of Vienna. She has worked as a dancer/performer and/or assistant choreographer with Christine Gaigg, Daghda Dance Company, Doris Uhlich, Laurence Levasseur, Noé Soulier, Sabine Glenz, Saskia Hölbling, Yvann Alexandre, as well as with the directors Andrea Breth, Philippe Arlaud and Philipp Harnoncourt, among others. She combines these experiences in her practice as a clinical health psychologist and sport psychologist, as a dancer/performer, as a professor of contemporary dance in the faculty of performing arts at the Music and Art University, and lecturer on movement and psychology at Sigmund Freud University, both in Vienna.
Her research, publications, and collaborations are motivated by the idea of movement in physical and psychic spaces, in the fields of contemporary dance, architecture, and the artistic diversity practice.